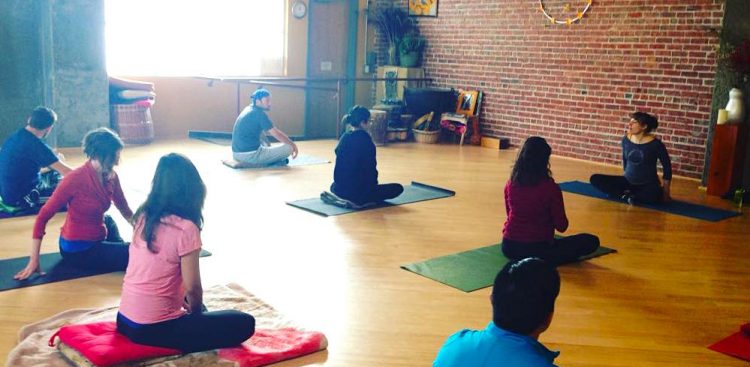 Mindfulness is simply being aware of what is happening right now without wishing it were different; enjoying the pleasant without holding on when it changes (which it will); being with the unpleasant without fearing it will always be this way (which it won't).
-James Baraz
Mindfulness has many benefits, including stress management, strengthening healthy neurological connections, and improving focus and well-being. When combined with movement such as yoga, you can also release muscle tension, calm the nervous system, and increase strength, flexibility, and balance.
In addition to regularly scheduled yoga classes, I specialize in tailoring personal and group sessions to meet the specific needs and desired outcomes of my clients. These can be ongoing or one-time classes or workshops – including yoga, meditation, community and team building, and more.
August 9, 2019 4pm-7pm | August 10, 2019 10am-3pm
Oakland, CA
This experiential workshop will bring together practices from coaching, mindfulness, restorative circles, and gentle movement. In a safe and inclusive space, you will explore the different layers of your identity that may inform dynamics of your relationships and communication, and learn techniques for coaching and communication that foster understanding. You will be invited to embark on a journey of inquiry as you connect deeply with yourself and others, tapping into your gifts and uniqueness, and revealing and releasing beliefs that are limiting.
"Hedy's classes are accessible, inspirational, and supportive of students at all skill levels. Her instructions are clear, and she is generous with encouragement and humor. Hedy creates a safe and welcoming space to be present, stretching minds and bodies towards greater peace and authenticity."
Jon, Lake Merritt Yoga student
"This class was fantastic. Just what I needed to nourish my soul this new year weekend. I appreciate the encouragement to modify poses and go at your own pace. Love the meditation portion and got a lot out of the partner exercise. Thank you!"
Yoga and Mindful Intention Setting
workshop participant
"As always, I left class feeling at peace and energized for a great day. "
Yoko, Lake Merritt Yoga student
"I have attended Hedy's yoga class regularly for about five years, and I am so glad I have the opportunity to recommend her as a teacher. Attending her class has had an enormously positive impact on my physical health and general wellbeing. As a teacher, Hedy could not be more understanding and helpful. To target a range of outcomes, and help us meet the level of challenge each of us seeks in our practice, she offers variations, and provides individual instruction without ever being overly demanding. In Hedy's class, there is something for everyone — anyone of any level of experience will feel welcome, and then leave feeling relaxed and focused. Every time I have the opportunity to practice yoga with Hedy, I look forward to it!"
Lain, Lake Merritt Yoga student